SICK has long played a central role in optimising processes in the sensor industry, and it is now time to introduce the latest W16 and W26 photoelectric sensors, a new generation of technology that will replace the existing W14-2, W18-3, W23-2 and W27-3 sensor families from April.
SICK, the intelligent sensor manufacturer, will stop taking orders for these previously popular ranges in order to streamline its portfolio and push the boundaries of sensor technology. SICK prioritises well researched, reliability-driven features, and can simplify your operations and processing to save you money and time.
The latest W16 and W26 sensors boast a range of improvements for industrial applications and, thanks to the latest high-performance detection technologies, can detect shiny, uneven, perforated and transparent objects more reliably than ever before.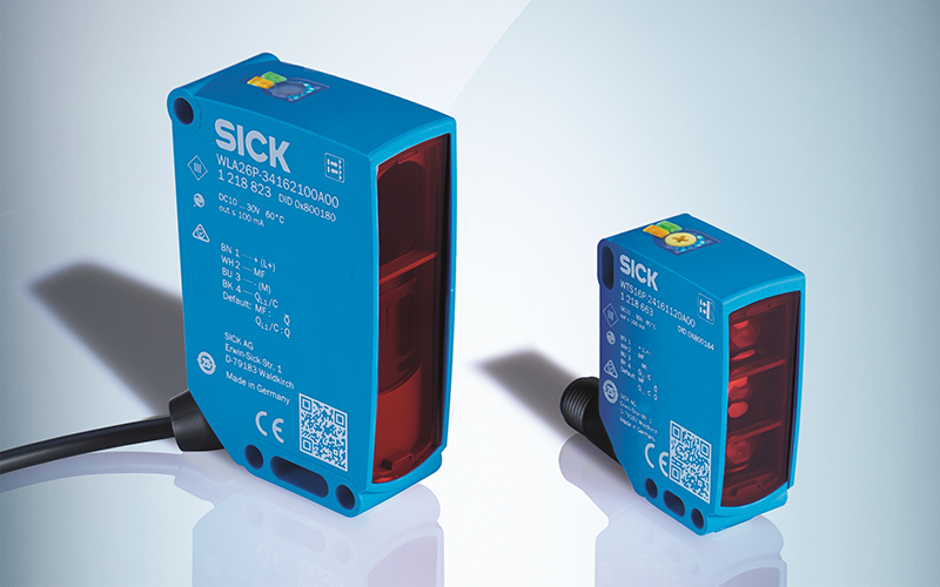 The new sensors also feature SICK's BluePilot technology — an LED system that has the ability to align sensors and reflectors as well as senders and receivers within seconds. What's more, BluePilot helps with alignment over even longer distances, with retroreflective and through-beam sensors.
Other features include the use of Bluetooth technology, allowing the sensors to seamlessly detect and translate their situation into digital data which is accessible via other smart and mobile devices, opening the door to Industry 4.0 and smart factories.
Of course, the new SICK sensors are intended to streamline your business and increase efficiency, so it is important to ensure continuity and a hassle free upgrade process. The new and improved W16 and W26 sensors feature compatible housing and fixing holes for most sensors from the previous generation and in some cases, where a simple swap is not possible, adapters are provided.