A pioneer in the production of Switchgear, E. Dold & Söhne KG is one of the leading European manufacturers and is certified to ISO 9001. The precision manufacturing of Dold products is in keeping with the best of its traditions.
With its own tool and form production, an experienced plastic moulding department together with up-to-date manufacturing plant, Dold ensures flexibility, efficiency and a direct influence on delivery times, as is required by its customers. This depth of production control and the key optimisation of the electronic and mechanical components ensures that the high quality standards expected of Dold products are maintained.
Dold's product quality and reliability has lead it to be a respected supplier of measuring relay and safety products to the nuclear, power generation, water and railway industries.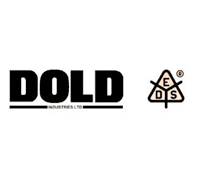 Product Portfolio
The electrical safety is more and more important when using electronical switching modules. Dold offers the most suitable solution for your application.
Wherever people, machines and products must be protected against injury or damage and productivity increased, DOLD relay modules and interlocks have been successfully deployed worldwide for many decades.
Safety switch, solenoid guard lock, trapped key interlock and command function in one system
Safety with System. The special thing about SAFEMASTER STS is the system concept and the simple design which allows any conceivable variant, from the smallest standard solution to a complex safety system. Any solution remains flexible, unique and economical thanks to the modular design principle.
Safety switch
Electromechanical safety switches monitor accesses and safety gates
SAFEMASTER STS series safety switches reliably secure access and protective doors and hatches. They are suited for applications requiring a high level of security. The very narrow design also allows them to be installed on movable safety guards.
Guard lock
Electromechanical solenoid locking units prevent the opening of access or safety gates.
Guard locks in the SAFEMASTER STS family combine our trusted mechanical principle with the advantages of electromechanical safety switches with a 2-channel locking function. Thanks to their lock monitoring features, they can be used to reliably protect both processes and personnel.
Key transfer
The key transfer system combines the advantages of none wiring, mechanical safety with electrical safety.
The basic principle of the key transfer system ensures that a machine or system is in a safe state before an access can be made. A further safety aspect is that a key is inserted either in a safety switch or can be used for opening a door lock.
DOLD is one of the leading manufacturers in the field of PCB relays and offers suitable electro-mechanical relays for a multitude of application fields. The comprehensive product portfolio encompasses miniature relays, PCB relays and safety relays with forcibly guided contacts. As a specialist in PCB relays, we stand for quality and reliability from a single source. Our PCB relays are available in a great variety of different contact variants and construction forms and guarantee the highest switching safety with minimal dimensions.
We are here to help
Feel Free To
Contact US
Address:

Unit 11, Northpoint Business Park, New Mallow Road,
Cork, T23 YR04

Email:

Phone: