Long Distributors are delighted to announce the release of innovative new photoelectric Sick Sensors that thrive in challenging conditions, offering a cost effective way to improve your production and operational processes. The upgraded sensors are new Inox versions of its GR6 rectangular and GR18 cylindrical sensors, designed to provide a durable and reliable solution to the problem of detecting objects in harsh conditions.
THE SICK GR6 Inox product family comprises over 40 variants so that almost any object, no matter the surface texture or colour, can be detected in environments such as chemical wash down or the presence of aggressive oils, lubricants and dust. While the GR6 Inox is no bigger than a sugar cube, it delivers great results that will streamline through-beam, retro-reflective and proximity sensing duties.
Designed to provide reliable switching and a long service life, these ECOLAB-certified sensors use precision PinPoint red light or infra-red LED light spot options, combined with intelligent signal evaluation that is immune to interference from ambient light, dirt, moisture, and electromagnetic fields. Crucially, the sensors can also be easily identified after years of use because their product name is laser-etched into the housing surface.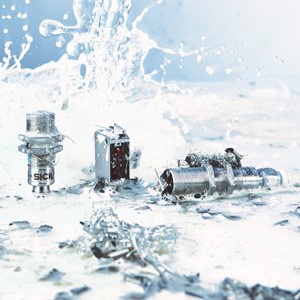 David Hannaby, SICK's UK product manager for presence detection, explains the importance of the innovative new sensors:
"For tough applications such as machine tool operation, materials handling and some assembly processes, plastic sensors offer limited durability and need frequent maintenance. In aggressive washdown environments, especially in food processing and pharmaceutical machinery, sensors not only need to cope with acid or alkali chemical cleaning regimes, but the effects of rapid temperature changes during washdown, causing pressure differences that suck moisture into inferior devices.
For too many operators, the temptation to choose lower-grade plastic sensors in the pursuit of economy has often meant sacrificing reliability and putting up with frequent device changes and downtime.
Now the release of cost-effective Inox versions of our GR6 and GR18 photoelectric sensors has made available a range of rugged, hard-working sensors that can withstand aggressive oils, lubricants and dusty atmospheres, as well as ambient temperatures between -25°C and +55°C."
Long Distributors Ltd supplies world-leading devices, including sensing and monitoring devices, motor control equipment and switchgear, to organisations from a variety of industries. Our clients range from small businesses to large multinationals, and come from industries as diverse as electrical and engineering contractors, food and beverage, pharmaceutical and medical devices. This gives us a unique perspective, and we offer technical support on all of the innovative products we supply, ensuring that our solutions are efficient and cost effective. 
The standardised M18 cylindrical design of the SICK GR18 Inox comes in a standard length and a space-saving shorter version with both M12 male connector and 2 m cable variants, together with quick and space-saving mounting in either in a through-hole or using a mounting bracket.