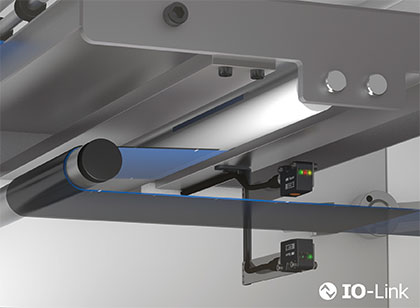 Double sheet detection made simple: two ultrasonic sensors, three sizes, various object materials
Long Distributors Ltd is pleased to announce the introduction of two product families from Baumer. The high-performance ultrasonic sensors U300 and U500/ UR18 from Baumer offer a multitude of integrated functions and adjustment options. These allow the sensor to be optimally adjusted to the application. A new double sheet detection function has now been implemented in the through-beam sensor of these series.
Conor Long, Managing Director of Long Distributors said, "We are delighted to be able to offer these additions to the Baumer family of solutions to our customers in Ireland. These offer many possible solutions to our customers."
Double sheet detection: Reliable detection of one or more layers
Double sheets often cause machine downtime and resulting repair costs if necessary. This is prevented by the reliable detection of double sheets with the U300 and U500/UR18 product families of ultrasonic through-beam sensors. This increases process safety and prevents damage and waste in further process steps. The receiver of the through-beam sensor is equipped with two binary switching outputs as well as an IO-Link interface. The sensor reliably detects the most common materials in the standard-setting. If critical material thicknesses occur, the sensor can be optimally taught in for this through parameter configuration. Both in IO-Link mode and in switching mode, the sensor detects one, two, or more layers of materials such as foil, paper, cardboard, labels, or even thin metal sheets.
Typical applications in addition to double sheet detection are film tear detection, bonding surface detection, and label inspection. Here one encounters very diverse materials and their thickness as well as extremely varied installation conditions. This is no problem for the ultrasonic sensors from Baumer. The through-beam sensor can be flexibly adjusted to materials and the installation situation, such as the distance. Via IO-Link, the parameters can be easily and quickly adjusted to critical, sound-absorbing materials to enable reliable detection. The process values related to the material are readout, and the switching thresholds set accordingly. For mounting, the housing of the transmitter and the corresponding receiver can also be selected according to the installation situation. It is also possible to combine the cubic receiver (U500) with the cylindrical transmitter (UR18). The choice of the sensor housing and a variably adjustable detection range thus offer great flexibility in the design-in.
In addition, as with all other variants of the U300 as well as U500/ UR18 sensor families, many other IO-Link parameters can be used by the through-beam sensor in order to optimally adjust the sensor to the requirements of the application. This enables an even more reliable application solution. The sensors provide additional added value through secondary diagnostic and process data. As a result, the system effectiveness can be additionally increased and the processes can be sustainably optimized.
Long Distributors Ltd supplies world-leading devices, including sensing and monitoring devices, motor control equipment and switchgear, to organisations from a variety of industries. Our clients range from small businesses to large multinationals and come from industries as diverse as electrical and engineering contractors, food and beverage, pharmaceutical and medical devices. This gives us a unique perspective, and we offer technical support on all of the innovative products we supply, ensuring that our solutions are efficient and cost-effective.
Long Distributors Ltd have a large range of Baumer solutions in stock in Cork. Talk to us today about finding the right solution for you.